By Cynthia Herbert :: 10:12 PM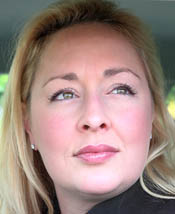 News reports are still coming in, but it looks like confirmation has been made to at least two major outlets – country music singer Mindy McCready is dead at age 37.
The singer, who recorded five studio albums
throughout her career, shot herself and her dog at her home earlier this evening. Neighbors had heard gunshots at her house in Heber Springs, Arkansas, and called law enforcement.
Last month, McCready's boyfriend, record producer David Wilson, died at the age of 34, also of an apparent suicide. However, the sheriff's office overseeing Wilson's death has not yet closed the investigation.
McCready checked into a rehabilitation facility two weeks ago, after her father went to a local judge claiming that she was sleeping all day, drinking alcohol excessively, and abusing prescription drugs.
She leaves behind two children, Zander, 6, and Zayne, 9-months-old. Neither child was in McCready's house at the time of her death.