By Cynthia Herbert :: 3:01 AM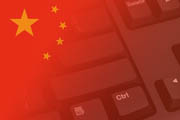 TechCrunch is reporting that the former head of Google's China division, Kaifu Lee, has been banned from two Twitter-like microblogging services in the Communist country, Sina Weibo and Tencent Weibo.
Through an announcement posted on Twitter yesterday, Lee told followers that his ban prevents him from posting on either Weibo platform for three days. His translated Tweet reads, "Sina Tencent be silenced for three days, we came here I can."
Lee's account is one of the most followed on Sina Weibo, with more than 30 million followers. He did not disclose the exact reason behind the ban, but many close observers believe it may be due to recent remarks he has made about Chinese search engine Jike. Lee had recently criticized the company for spending issues, and laying off employees.
Since leaving Google, Lee has headed up a startup incubator called Innovation Works, in Beijing.
[Additional information: TechCrunch]