By Paul Thomson :: 11:32 PM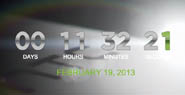 HTC will be announcing its new smartphone handset tomorrow, the HTC One. Here's what we might expect to see and hear at the launch event.
Previously leaked rumors have us thinking that the HTC One will feature a 1.7GHz Qualcomm quad-core processor, with a 4.7-inch  full HD display with a resolution of 468ppi. 2GB of RAM and 32GB of internal storage under the hood, and dual front-facing stereo speakers.
The two cameras will likely be a 13-megapixel camera facing the rear, and a 2-megapixel front-facing camera. It will run the Android Jelly Bean OS. A sneaked press shot of the One shows that the handset may have an aluminum chassis with an overall stylish feel to it. Many who have seen the leaked images claim that it has a very similar feel to the iPhone 5.
All the guessing will end, and the rumors will be put to rest tomorrow at 11:00 am EST.