By Cynthia Herbert :: 11:48 PM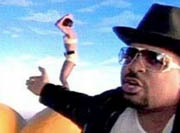 If you're a politician, you should probably be careful about what you "like" on Facebook. Just ask Charles Mainor, a Jersey City Assemblyman, who finds himself wrapped up in a big brouhaha over questionable Facebook pages he's liked.
Constituents in Mainor's district are pointing to one particular Facebook page, "Big Bootie Freaks."
Mainor told the New Jersey Journal newspaper that he believes that his constituents are "trying to discredit me in some kind of way because I agreed with the gun deals that I pushed through. We're losing babies. And if the best they can do is come back and say, 'He shouldn't have Big Bootie Freaks,' then I said, 'Hey, you shouldn't have guns."
The large posterior page, as well as one about fighting, have since been removed from the list of pages the politician likes. Mainor was first elected to the New Jersey General Assembly in 2009, and represents the 31st Legislative District, which includes the Hudson County municipalities of Bayonne and part of Jersey City.