By: Katherine McClosky :: 12:41 AM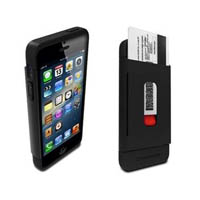 Ever want to dash out of the house on an errand, and just grab your phone and go? Hate being bogged down with a wallet, purse, or other bag? A new case for the iPhone 5 doubles as a helpful pocket to help store a credit card and driver's license.
The case, made by Marware and called the "Stash" is a low-profile iPhone 5 case that securely stores up to two credit cards or IDs. The Stash also serves as a stand for your iPhone that offers hands-free viewing by propping it up in both landscape or portrait orientation.
Inside the case is a built-in rubber strip that firmly secures cards inside the case, keeping them from falling out. Fashioned from durable hard plastic, it provides both button protection as well as raised edges to protect the iPhone's display when laying flat while still allowing full access to all ports, speakers and cameras on the iPhone.
The Stash case for iPhone 5
retails for $18.33 at Amazon
– it comes only in black.