By Paul Thomson :: 8:04 AM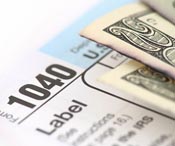 Taxes are complicated and confusing, and more than 75 percent of taxpayers filing returns are due refunds which average some $3,000. This tax season, the Chief Tax Officer of a Jackson Hewitt, a national tax preparation firm, will host a Tweet-up to help taxpayers get their questions answered, their returns filed, and their refunds dollars back as soon as possible.
Next Wednesday, February 27, Jackson Hewitt's Chief Tax Officer Mark Steber will host the company's first-ever Tax Tip Tweet-Up. Kicking off at 6 p.m. Eastern time and running one hour, tax filers can Tweet @JacksonHewitt to submit their tax questions – in 140 characters or less, or use the #TaxTalk hashtag. Steber will respond to as many inquiries as possible during this time period, using his personal handle, @MarkSteber.
"Social media gives us the unique opportunity to help taxpayers across the country – in real-time –with questions they may have surrounding tax filing," said Steber. "We are inviting everyone, including our clients, those who have filed with someone else or on their own and those who have yet to file, to stop by and ask whatever question they may have."
For Twitter users who are unable to participate during the Tweet-up time, Steber will attempt to address questions as frequently as possible via his @MarkSteber account.