By Gilbert Falso :: 6:56 AM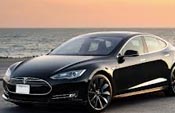 The CEO of Tesla Motors, Elon Musk, said yesterday that the electric car maker should become profitable sometime during the current quarter.
Musk alluded to the profitability while at the same time reporting a $396 million loss for last year, more than 2011's $254 million loss. Tesla spent most of 2012 in heavy money-spend mode as it refurbished an automobile factory and opened showrooms across the country to sell its new Model S sedan.
On a conference call with industry analysts, Musk claimed, "I think that's a pretty big deal." Production for the Model S now averages roughy 400 cars per week, and Musk says the company's expenses are falling.
Tesla's stock dropped 6 percent to $36.20 in after-hours trading yesterday evening, the results had been released at the close of the market.
This past weekend, Tesla's Model S sedan was in the limelight as a group of owners tried to refute the negative reviews of the car made by a New York Times automobile critic.
Seven Model S owners gathered at the Tesla showroom in Washington D.C. on Saturday morning and attempted to recreate, as much as possible, New York Times journalist John Broder's trip that he used to evaluate the Model S's use on long-range roadtrips.
The group of seven had much better luck than Broder, and Musk and other Tesla aficionados called out the New York Times for shoddy journalism. The Times stands by its writer and his review.