By Paul Thomson :: 9:43 AM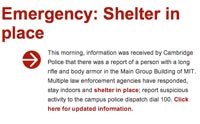 Update: Around 11:00, campus officials declared an "all clear" and returned the campus to normal operations. No gunman was found.
The Massachusetts Institute of Technology's (MIT) Twitter account sent out a warning to students and community members just after 9:00 this morning stating that a gunman with body armor had been reported on campus.
The Tweet ordered those on campus to stay away from the Main Group Building, where the gunman was alleged to be located.
Students and others on campus have been directed to MIT's Emergency website for additional information.
Tweets below from @MITnews – most recent Tweet at top:
Please shelter in place and stay clear of the main group. Dial 100 to report suspicious activity emergency.mit.net

— MIT (@MITnews) February 23, 2013
Cambridge PD reports info of possible ind. with gun/body armor on campus. Stay clear of main group until notice emergency.mit.net/emergency/

— MIT (@MITnews) February 23, 2013