By Cynthia Herbert :: 8:57 AM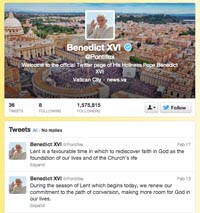 When Pope Benedict XVI steps down from his role as the leader of the Catholic church at the end of this month, his Twitter account, @pontifex, will be closed, according to sources at the Vatican.
The Vatican Radio broadcast a message saying that, "it seems unimaginable that one could continue to use a communication tool so popular and powerful during the 'sede vacante' period," Â referring to the period of time when the Church is between Popes while a committee of Cardinals meet to select a new leader. At this time, it is not known if the next Pope will be expected to Tweet or use social media in any fashion.
Pope Benedict stunned the world recently when he announced that he would resign on February 28, citing his age and health concerns as the reason for his departure. The last Pope to resign office was Pope Gregory XII in 1415 – no Twitter accounts to worry about back then.
The Pope joined Twitter three months ago, and his followers grew to over 1.5 million, despite the fact that the Pope has only posted about 30 Tweets.
Vatican Radio made an assumption that the Pope (or his staff) may send one or two last Tweets from the account toward the end of Benedict's time at the helm of the Church.
The Pope's most recent Tweet talked about Lent, and was sent on February 17, "Lent is a favourable time in which to rediscover faith in God as the foundation of our lives and of the Church's life," he wrote.