By Cynthia Herbert :: 11:37 PM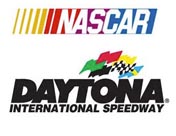 A multicar wreck occurred today at the Daytona International Speedway, near the end of the Nationwide Series Drive4COPD 300 NASCAR race.
The race had recently restarted after another crash was cleared from the track, and several cars were jockeying for position when they collided, kicking off a chain reaction that involved several vehicles, and ended in a spectacular crash that tossed debris, including tires and an engine, into the stands.
A NASCAR fan had filmed the crash, and uploaded the video to YouTube earlier this afternoon, but NASCAR filed a take-down notice with the video-sharing site, and the video was removed – YouTube cited copyright restrictions as the reason.
Angry NASCAR fans and others quickly took to Twitter and decried the action, and copies of the video began appearing across the Web quickly, on sites like LiveLeak, and popular sports news blog DeadSpin.
NASCAR issued the following statement, "The fan video of the wreck on the final lap of today's NASCAR Nationwide Series race was blocked on YouTube out of respect for those injured in today's accident. Information on the status of those fans was unclear and the decision was made to err on the side of caution with this very serious incident."
Several hours after it has been taken down, YouTube reinstated the video with this message, "Our partners and users do not have the right to take down videos from YouTube unless they contain content which is copyright infringing, which is why we have reinstated the videos."
Most of the Twittersphere doesn't believe NASCAR's reasoning for pulling the video – popular sentiment seems to think that they did it to protect their image. Unfortunately for NASCAR, once something hits the Internet, it's very difficult to pretend it didn't happen – just ask Beyonce about those Super Bowl pictures.
The video from the Daytona Speedway crash that NASCAR attempted to censor is below.