By Gilbert Falso :: 5:09 PM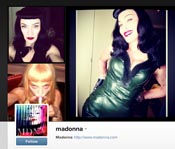 Pop music star Madonna has been warned by social image sharing site Instagram for posting content that does not abide by its guidelines.
Instagram is asking the 54-year-old singer to refrain from sharing photos "that show nudity or mature content" through the network.Madonna posted the warning that she received on Instagram, and it states that users should not "share photos that show nudity or mature content." However, the specific letter that Madonna received doesn't state what particular picture or pictures Madonna shared to prompt the warning she received.
Recent pictures posted on Madonna's account include a close-up of her cleavage, and a revealing shot of the singer from behind wearing only a leotard.
The letter continues, "we strongly suggest deleting any additional content on your account that may not fall in line with the above guidelines."
Madonna does not appear to have complied with Instagram's request yet, and has not offered an official reply to the network or to the press at this time.