By Gilbert Falso :: 7:09 PM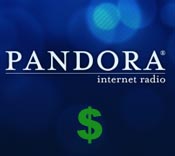 Music streaming service Pandora today announced that it would be limiting the number of hours of music that users could stream from their mobile devices each month.
Pandora users who do not have a paid account on the service will be limited to 40 hours per month of listening via a mobile device. The company expects that this will affect about 4% of its monthly active users.
Users who reach their 40 hour limit will have two choices. They can pay 99 cents to unlock unlimited mobile listening for the rest of the month, or they can switch to a Pandora desktop client. Users of Pandora's Pandora One paid subscription service, the no-advertising, unlimited music tier of service, will not be affected.
The reason behind the move to curtailing mobile listening hours is due to rising royalty prices that the company must pay for licensing the music. Per-track royalty rates have risen more than 25% for the company in the last three years, with a 9% increase for this year alone. The company projects that over the next two years, royalty rates will increase another 16%.
Pandora estimates that it has 65.6 million active listeners as of the end of last month, an increase of about 40% from last year.
"Limiting listening is a very unusual thing to do, and very contrary to our mission," Pandora'sco-founder Tim Westergren said in a blog post. He noted that he hopes these changes will help the company to "manage these escalating costs with minimal listener disruption."