By Gilbert Falso :: 11:16 AM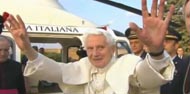 Pope Benedict XVI sent his final Tweet a few minutes ago from the official Papal Twitter account, @pontifex, before he boarded a helicopter and left the Vatican after stepping down from his role as the leader of the Catholic Church.
"Thank you for your love and support. May you always experience the joy that comes from putting Christ at the centre of your lives," he Tweeted.
At this time, Church officials have not commented about what will become of Benedict's Twitter accounts – they were created in multiple languages – and have several million followers across the globe.
A date for the start of the papal conclave that will decide who becomes the next Pople has not yet been set, but may be on Monday when the world's cardinals formally meet to begin the process of selecting the new Catholic leader.