By Paul Thomson :: 8:01 PM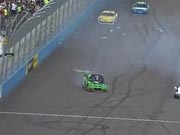 NASCAR driver Danica Patrick had one of the worst hits of her career earlier today when her car crahed into the wall at the Phoenix International Raceway. Patrick was able to walk away from the collision uninjured.
She was in 26th place with about 100 laps left when her car blew a front tire coming around turn 4. The right side of her GoDaddy car collided with the wall, and then the vehicle careened back on the track and was hit by driver David Ragan. The impact with Ragan's car caused Patrick's hood to fly up and block her line of sight out of the windshield, and also destroyed her left front fender.
Video of Patrick's crash is below.