By Gilbert Falso :: 8:22 AM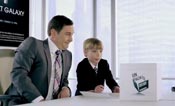 Samsung is getting us all in a frenzy over their long-awaited handset, the Galaxy S4.
The company has released a teaser video, Samsung Unpacked, introducing audiences to a boy named Jeremy, telling us he will be the secret messenger for their March 14th unveiling event in New York City.
In the video (below) Jeremy peeks into a box that contains the new Galaxy S4, and then runs off to home with it. At the end of the video, Jeremy sits down in his room and the video closes – "to be continued."
As far as rumors and speculation are holding up, we will likely see the S4 as having an eight-core Exynos processor, a separate eight-core GPU, the display will be a 4.99-inch Super Amoled variety, 2GB of RAM, and the camera will be a a 13-megapixel featuring 1080p video capability. On the OS side, we're expecting Android 4.2.2 (Jelly Bean).