By Paul Thomson :: 1:58 PM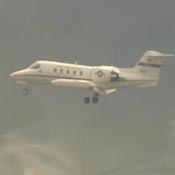 A small jet airplane operated by the U.S. Air Force is set to make an emergency landing at an airport in Illinois after reporting problems with the landing gear in the nose.
At this time, emergency services are standing by the runway, and the entire incident is being streamed live by the local Fox News affiliate. The airliner has made several passes by the airfield at Parks Airport in  Cahokia, IL, and all landing gears look to be down, but there is still question about the stability of the front gear.
News reports say that there are eight people on board the aircraft, a Lear Jet.
Update: 2:23 PM – The airplane will travel to Lambert field in St. Louis, MO to make the landing instead of Parks Airport as initially reported. The plane is currently circling to burn off fuel.
Update: 2:30 PM -Â News helicopters covering the event have been told to stay at least six miles away from Lambert field. Images will not be as up-close as they had been when the plane was due to attempt a landing at Parks Airport in Illinois.
Update: 2:32 PM -Â The airplane has landed and is on the ground. It looks to have landed with as little problems as possible, although there are reports that the nose gear partially collapsed during the landing. There is no sign of fire or smoke underneath the plane on the ground.
[Image above – The nose gear appears to be down when the aircraft flew by the tower at Parks Airport in Cahokia, Illinois about 1:55 PM today]