Fans Upset With Bieber Over Late Show Turn to Twitter
By Cynthia Herbert :: 9:18 AM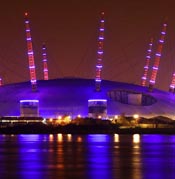 Fans of pop star Justin Bieber were not happy with him showing up nearly two hours late to a performance at London's O2 arena yesterday.
The show, scheduled to start at 8:30 PM did not get underway until nearly 10:30. An angry room vented on Twitter, some directly at Bieber's account.
Daughter and Nieces at O2 to see Justin Bieber – Still not on stage at 10.20 on a school night – That's just taking the piss !

— Dean(@Deano10W) March 4, 2013
Eventually, the star did make it out on stage, but not before being greeted by a number of loud boos from the bored and tired audience.
The O2 arena's Twitter account chimed in as well, saying, "Justin Bieber is now on stage and apologises for the lateness of his show."