By Paul Thomson :: 1:06 AM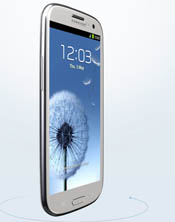 A recently discovered bug in Samsung's popular Galaxy S III smartphone handset allows the lock screen to be bypassed without entering a PIN or lock pattern.
By bypassing security setups, anyone can gain access to the home screen of the device, no matter what security measures were placed on it. The bug was also replicated on the Galaxy Note II tablet in addition to the S III handset, meaning that the root of the problem most likely likes with Samsung's software interface, and not the Android operating system.
To circumvent the security measures on either Galaxy device, follow these steps:
Press "Emergency Call" from the lock screen
Open "Emergency Contacts"
Press the Home button, then immediately press the Power button
Press the Power button again, and the home screen of the device will appear.