By Gilbert Falso :: 7:51 PM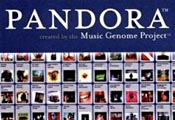 Joe Kennedy, Pandora's CEO, President and Chairman has resigned from the company.
He made his resignation announcement during Pandora's quarterly earnings call earlier today. The board of directors will form a search committee to find a successor, but Kennedy will remain in his current role until his replacement is selected.
Although Pandora's financial numbers are decent – in fiscal year 2013, the company totaled $427.1 million in revenue and $255.9 million in mobile revenue, with $125.1 million in revenue for the most recent quarter that ended on January 31 – they're not strong enough to make the company profitable.
Pandora had an IPO in 2011, and had opened at $16 per share and the stock then jumped into the $20s, but has since been lower, just into the double-digits as they try hard to turn a profit. Recently, they made an unpopular announcement with their users that they would be cutting mobile listeners off after 40 hours of music play each month.