By Gilbert Falso :: 10:42 AM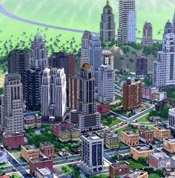 SimCity, the long-awaited game from Electronic Arts that was the modern-day update to the 80s original, has encountered much difficulty since its launch earlier this week, due to the game's requirement of an always-on Internet connection for play.
The game, where the player is in control of a virtual city, building roads, providing municipal services, surviving disaster situtations, etc., relies on connecting to Electronic Arts' servers for support of game infrastructure, and the company was not prepared on the back end of the popularity of the game at launch. The game relies on Electronic Arts' content delivery network, Origin.
In a statement released yesterday, Electronic Arts acknowledged the problem and said that it is working to address it, but admitted that a fix will take some time. "We are aggressively undergoing maintenance on our servers to add the necessary capacity to meet the demand. Players may continue to play throughout the weekend but we want to note that performance will fluctuate during this time."
Gameplay issues are so bad, that online retailer Amazon has added a disclaimer to the game
on their site – "Many customers are having issues connecting to the 'SimCity' servers" – it reads. In some countries, Amazon has briefly suspended sales of the game due to the number of complaints lodged about the issue.
Some gamers who purchased the title directly from Electronic Arts have inquired about a refund of their purchase, due to the unplayable nature of the game. An Electronic Arts community manager initially stated that refunds would be possible, although a later Tweet from the company (below) seems to negate this fact.
Regarding recent confusion: In general we do not offer refunds on digital download games. Please review our policy help.ea.com/article/return…

— Origin (@OriginInsider) March 7, 2013
A selection of other Tweets below shows that many players are unhappy with the current status of SimCity playability:
A real shame that such a promising game in SimCity is being ruined by EA's need to have DRM via a constant internet connection

— Ben Temple (@Trundlez) March 8, 2013
Well the new @simcity is awful! Paid for a game I can't even play! Unbelievable, can't believe I waited years for this! #wantmymoneyback

— Kai Shepherd (@TheQuillGuyKai) March 8, 2013
@simcity i can't even get a game going this is ridiculous, you need to sort something out and fast, why not make an offline mode?

— THE CLONE (@TH3_CLONE) March 8, 2013