By Paul Thomson :: 6:59 PM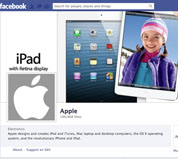 Did one of your friends just "Like" a Facebook page that promises to send them one of 82 free iPad Minis if they are randomly selected? It's not true.
Earlier today, someone set up this fake Facebook page, pretending to be Apple Computer Corp. Then they posted a picture of an unboxed iPad mini with a statement that they had 82 such tablets, and would be giving them away to fans who liked the Page and shared the post with their friends.
In 17 hours, nearly 94,000 people have liked the Page, and the post has been shared over 195,000 times. And it's all for nothing. There are no iPads, this is not Apple's official Facebook page. Apple's official (well, Apple really doesn't use Facebook or Twitter, so this is as official as you're likely to get) page is here.
If you're liking this status in hopes of scoring a free tablet, you're going to be sorry. It's very possible that the people behind this fake Facebook page are gathering your data for other means, and they're probably not above board!