By Cynthia Herbert :: 6:18 PM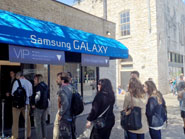 We're less than 24 hours from the official Samsung announcement of their next generation flagship smartphone, the Galaxy S4.
The event kicks off in New York City at 6 PM on Thursday, and so far, here are the rumors that have stayed consistent over the last several weeks:
A 5-inch 1080×1920 display
Options include: 16GB, 32GB, and 64GB
13-megapixel camera with 1080p video capability
2GB of RAM
Under the hood, more recent rumors point to Qualcomm's Snapdragon 600 processor, clocked at 1.9GHz.
Developing news stories are also pointing to eye-tracking capabilities in the S4. The eye-tracking functionality uses the phone's forward facing camera to lock onto the motion of a user's eyes, and follows them when they move. By doing this, the phone can figure out where the user is looking, and software and applications can respond to a set of predetermined behaviors, like scrolling a web page, or blinking to make a click.

This emerging technology, which has long been researched for desktop computers, but this would be one of the first commercial applications for mobile technology.
To what extent the S4 will employ this new ere-tracking capability is yet to be seen. Earlier today, Bloomberg news said that some sources familiar with Samsung claim that eye scrolling won't happen with the Galaxy S4, but more simple interactions, like the ability to pause videos when the user's eyes move away from the screen, might be possible.
[Image above – Samsung's Galaxy Experience store at the South By Southwest (SXSW) Interactive conference.]