By Paul Thomson :: 3:42 PM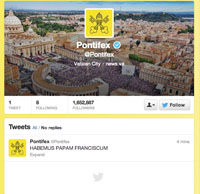 The newly named leader of the Catholic Church, Pope Francis I, will Tweet under the same handles as the previous Pope, and has issued his first Tweet: "HABEMUS PAPAM FRANCISCUM" – meaning, "we have a Pope, Francis".
Pope Francis I is Jorge Mario Bergoglio, cardinal of the Roman Catholic Church from Argentina. He was named earlier today after a conclave of cardinals elected him to the position. He will Tweet on the @pontifex Twitter account in nine different languages.