By Paul Thompson :: 9:36 PM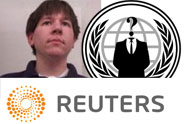 Matthew Keys, the Deputy Social Media Editor for Reuters, has been charged in a federal indictment for conspiring with members of the hacker group Anonymous to illegally access the website of the Los Angeles Times.
In a U.S. Justice Department filing earlier today, Keys is accused of supplying hackers with a login and password to the computer network of Tribune Co., which owns the Los Angeles Times, in December 2010.
The alleged hacking attempt came two months after Keys had been let go from a Tribune TV station in Sacramento, Calif. during the company's bankruptcy proceedings. Keys was not yet working for Reuters when the hacking attempts occurred.
The federal grand jury indictment handed down in Sacramento states that a hacker made changes to a Los Angeles Times news story posted on Dec. 14 Â 2010. The headline was changed to read "Pressure builds in House to elect CHIPPY 1337," a reference to another Anonymous hacking faction. [Screen capture of hack]
The federal government claims that Keys had identified himself in an Internet forum as a former Tribune employee and offered members of Anonymous a username and password to the Los Angeles Times web server. In addition to the log-in credentials, Keys also encouraged the Anonymous members to deface and alter the website, according to the indictment.
At least one of the hackers used the log-in and password provided by Keys to access the server and make the headline change. After the first hacking attempt, the hacker told Keys that system administrators at the Times has blocked subsequent hacking efforts, and changed the passwords so that they could not be used. Keys tried to regain access to the system for the hacker, but was not able to a second time.
Keys faces federal charges that include up to 30 years of prison time, and a fine ranging up to $750,000 if he is convicted.
Although contacted by numerous press outlets, including us, Keys has, so far, not responded publicly in the media about these accusations. He did, however, re-Tweet a news story about the indictment, and followed it up with a Tweet from his account, @TheMatthewKeys, which has 24,000 followers, "I am fine. I found out the same way most of you did: From Twitter. Tonight I'm going to take a break. Tomorrow, business as usual."
Reuters news organization has not commented directly on whether Keys will be allowed to keep his job at the news agency while he deals with the charges against him in federal court. However, they did release this statement regarding the incident
"We are aware of the charges brought by the Department of Justice against Matthew Keys, an employee of our news organization. Thomson Reuters is committed to obeying the rules and regulations in every jurisdiction in which it operates. Any legal violations, or failures to comply with the company's own strict set of principles and standards, can result in disciplinary action. We would also observe the indictment alleges the conduct occurred in December 2010; Mr. Keys joined Reuters in 2012, and while investigations continue we will have no further comment."