By Paul Thomson :: 8:48 AM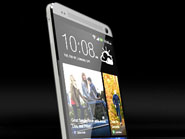 HTC announced today that it will be introducing the HTC One handset this week, the phone that the Taiwanese company considers to be its flagship smartphone model, and possibly its final attempt at taking some kind of hold in the smartphone marketplace.
The long-awaited phone has been delayed due to issues in HTC's supply chain – chiefly the shortage of at least two key components for the smartphone. HTC had told carriers earlier this month about the delay, but gave no timetable for rollout at that announcement.
"We appreciate our customers' patience and believe that once they have the phone in their hands, they will agree that it has been worth the wait," a company spokesperson said in a prepared statement for the announcement.
When the HTC One actually shows up on store shelves, it will encounter some of the toughest competition that the smartphone market has ever seen. Offerings like the Galaxy S4 from Samsung have the potential to totally eclipse whatever HTC hopes to do in the fiercely competitive marketplace.
As far as specs go, the phone will have a 4.7″ touchscreen display with a resolution better than Apple's current retina display, and a quad-core Snapdragon processor under the hood. A 2GB memory chip will make things speedy, but it will only be running Android 4.1, not 4.2. HTC's own interface, Sense, will run on top of the Android operating system.