By Cynthia Herbert :: 9:22 AM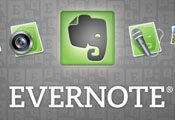 German mobile, broadband, and land-line service provider Deutsche Telekom has announced it has entered a deal with cloud-based notekeeping service Evernote to provide the application to all of its subscribers.
This may be one of the first in a series of pioneering moves in the telecommunications industry. Rather than just provide the utility of the network connection, companies seeking additional revenue opportunities may look to providing services as well.
A spokesperson for Deutsche Telekom would not reveal the financial information behind the deal, but did explain that it provides  subscribers in Germany with free access for one year to Evernote's $45 premium version.
Deutsche Telekom has also signed a deal with music-streaming service Spotify. Evernote has previously entered into arrangements with Taiwan Mobile, France Télécom, and Japan's NTT DoCoMo.
In a statement to the Wall Street Journal, a Deutsche Telekom spokesperson said, "it's not a secret that revenues from voice are declining and that telcos have to find new ways to bring new services to those customers. Telcos have to work in the future and it's not only about voice."
Filed under → Android, Apple, Cloud Computing, Investment and Funding, Mergers & Aquisitions, Mobile, Music, Smartphones, Social Media, Tablets, Telephony