By Leslie Spellman :: 10:07 PM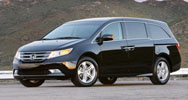 Automaker Honda is bringing the first factory-installed vacuum cleaner to its 2014 Odyssey minivan, which will be on display this week at the New York Auto Show.
The onboard vacuum, called the HondaVAC will be installed in the rear well of the minivan, and is meant to appeal to parents of young children, who frequently battle against crumbs, trash, and other detritus scattered around their vehicles thanks to the kids. The idea for the built-in vacuum came from a Honda engineer who returned from a long road trip with his family and thought that there had to be an easy way to get the van cleaned out.
It's a small unit with a long hose that reaches around the entire cabin of the minivan. The vacuum comes with two heads, a wide one for the carpet,  and a narrow one for small spaces and crevices.
The 2014 Odyssey hits dealer showrooms this summer, and the vacuum will be standard equipment in the top-tier model, the Touring Elite. It may be available as an option in other models, but Honda has not determined which ones yet. No price has been given on the vacuum add-on.