By Paul Thomson :: 8:42 AM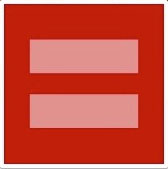 If you've been on Facebook and Twitter over the past day, you may be seeing a stream of your friends' profile pictures looking a lot like the red and pink equality symbol to the right.
The symbol is an variation on the Human Rights Campaign's (HRC) logo, which is usually a yellow equals sign on a blue background. It was adapted to red and pink to signify the hearings currently under way at the Supreme Court on the legalization of gay marriage.
The HRC posted the image online on Monday afternoon this week, and it quickly went viral, being shared across social networks, and also adapted by social network users as their profile picture. The image was so popular that the HRC's website was down due to a traffic overload for a short time yesterday morning.
According to data from Facebook, one of the top terms on the social network yesterday was "equality." Yesterday was the first day that the Supreme Court heard arguments on Proposition 8, a law that was passed in California prohibiting same-sex marriages.
Wednesday was the first day of two days of hearings on the matter, and activists from both sides have taken over Washington D.C. and the area around the Supreme Court building.