By Gilbert Falso :: 10:25 PM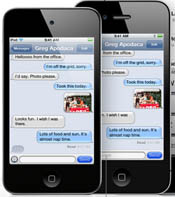 Apple's iMessage service on its iOS mobile operating system has a vulnerability that could crash the application if it receives a flood of messages, or a number of inordinately long messages in quick succession.
According to reports and tests, the app crashes under a sort of Denial of Service (DOS) attack. It was first discovered when a group of iOS developers received a rash of unwanted messages via Apple's iMessage service. Their apps could not keep up with the influx of message data, and completely locked up. Several dozen developers were affected by the attack.
At this time, it does not appear that the attack was widespread, or that it will grow to affect most iMessage users. Apple has not yet publicly responded to the claims about the spam message issue.