By Katherine McClosky :: 8:03 AM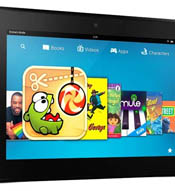 Did the Easter Bunny bring a Kindle Fire in the Easter basket this year? If your children received one of Amazon's tablets for Easter, parents might be pleased to know that it comes with a robust set of features to keep the kids from viewing inappropriate content or applications with their new toy.
Both of Amazon's Kindles, the Fire HD 7-inch
and Kindle Fire HD 8.9-inch
come with parental control settings pre-installed, and only need minimal configuration to protect your children. Below are detailed instructions on how to activate the controls, and limit and control how your children use their new Fire tablet.
To enable parental controls:
Swipe down from the top of the Kindle's screen to display the notification bar.
Tap "More" on the notification bar.
Tap "Parental Controls" and you'll be prompted to establish a Parental Controls Password.
Switch the controls on by tapping the "On" button on the right side of the screen.
Now that controls are enabled, you can restrict access to certain content on the Kindle:
Open the Parental Controls menu and enter the password you established.
Select "Block and Unblock Content Types" and choose the content you want to restrict.
Beyond the basic parental controls, you can also set up an Amazon Kindle Free Time
profile on their tablet, to create a zone within the tablet that is customized for your child. The Free Time software app, which is available via a download, features a kid-friendly interface, and allows you to set up profiles for each child that may use the tablet, as well as controlling time limits and content access.
To activate Free Time you'll need to create a profile for your child. To create a profile:
Connect to the web and make sure your Kindle Fire is updated to the latest system version.
Open Free Time and create a password.
Select an avatar for your child by picking one of the images provided.
Enter details about your child, their name, gender and birthdate.
With the Kindle Free Time profile created, you can now manage your child's profile and enable or disable certain settings. You can choose which books, videos or apps you want to make accessible to your child, and they will see only the selected content in their profile with Free Time is activated.