By Cynthia Herbert :: 9:58 PM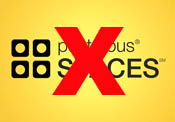 The blogging and posting platform Posterous, which was acquired by Twitter last year, will be closing in one month, at the end of April. Users who have blogs on the site, and who have pointed their domains to work with Posterous will need to move their content and redirect visitors by April 30, when the site will shut down.
For Posterous users who find themselves still needing to move their content to another service, many are looking at the WordPress platform and WordPress.com as a strong option. WordPress staffers are reporting a spike in blog post imports to WordPress.com from Posterous over the last several weeks.  In the past 30 days alone, WordPress.com has imported over 15 million posts. Two  million Posterous posts have been imported since the shutdown was announced.
Posterous and WordsPress have made the path for migrating to WordPress.com very easy.  WordPress has a feature where users can import their posts directly from their Posterous backup file. It is not an exact replica of the Posterous space, though, as  document files and audio files are not downloaded. Also, image files are downsized to smaller versions, and post comments are migrated over, but all comments lose the name of the commenter.
In addition to WordPress.com, other options for wayward Posterous users are Tumblr, SquareSpace, Posthaven, and Blogger.
Posterous began life in 2008 as a startup funded by Y Combinator. Twitter purchased the service on March 12, 2012. The 21 members of Posterous' staff joined the workforce at Twitter after the deal closed.