By Paul Thomson :: 10:47 PM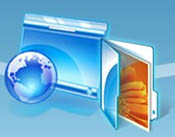 Amazon's cloud storage solution for individuals, Cloud Drive
, was initially started as a place for Amazon customers to store their music files purchased from the retailer. That was two years ago, and cloud storage services have really taken off in that time, but Cloud Drive hasn't kept up – until now.
Today, Amazon announced that Cloud Drive would support automatic file syncing from one computer to another. The app, available for both Windows and Mac operating systems, will now allow users to store and access files in Amazon's cloud from a folder on their computer. Files that are saved into the folder on the PC or Mac are also automatically synced up to the user's Cloud Drive account.
"The updated app makes it simple for users to put files in Cloud Drive and to access them from any of their computers, ensuring that they always have access to the latest version of their files from home and on the road," an Amazon spokesperson said in a release.
Now, Cloud Drive is on the same level as DropBox, Google Drive, and Microsoft's SkyDrive for desktop file syncing. Cloud Drive provides 5GB of space for free, with an option to purchase additional space. As for the other cloud storage providers, Dropbox provides 2GB free, Google Drive provides 5GB free and SkyDrive provides 7GB free.
Amazon's improvements do not carry over into the mobile space yet – all file syncing is desktop-only for the moment.