By Gilbert Falso :: 1:19 PM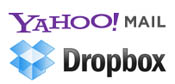 Yahoo Mail users will soon have integrated access to the cloud storage features of Dropbox, due to a new partnership announced between the two companies today.
The Yahoo-Dropbox integration will allow users to share and store their files more easily from within the Yahoo Mail interface. For users without a Dropbox account, they can create one easily from within Yahoo Mail when prompted. To do this, new Dropbox users can click on any attachment received in Yahoo Mail, select 'Save all to', and then 'Save to Dropbox', then follow the instructions to set up a new Dropbox account.
Sending files from Dropbox through Yahoo Mail is also integrated into the product.  To send a new attachment from Dropbox in Yahoo Mail, users need to only select the dropdown next to the paperclip icon in Yahoo Mail, and then select 'Share from Dropbox'. The Dropbox Chooser will appear for file selection. Large attachments, those greater than 25 MB, will be routed through Dropbox links rather than actually attached and sent with the email message.
Dropbox is available starting today for Yahoo Mail users in the following languages: English, French, Spanish, German and Italian.