By Cynthia Herbert :: 1:08 AM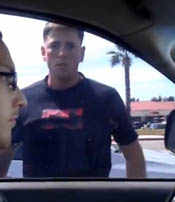 A U.S. Marine based at Camp Pendleton has been arrested in a road rage incident that occurred just off the Marine base outside of Oceanside, California. The aftermath of the accident was captured on video by another Marine, who was a passenger in one of the cars involved in the incident.
The video has quickly spread across the Internet over the past day. It shows a Marine sergeant screaming at the driver of a truck that rear-ended his vehicle after he made numerous quick stops in front of it. For nearly three minutes, the sergeant, whose name has not been released yet, taunts the driver, and bangs on the vehicle.
Camp Pendleton's Public Affairs Office has not yet viewed the video, but have confirmed that the sergeant was detained by military police after the incident, and has received a citation for "communicating a threat." Additional charges could be pending.
The Marine base spokesperson released the following statement: "This individual's behavior does not meet the standards that are expected of our Marines and it has received the attention of senior base staff."
Watch the video below. Warning, extreme profanity.