By: Paul Thomson :: 7:41 AM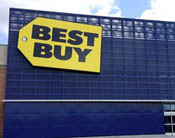 Samsung has announced today that it is partnering with electronics retailer Best Buy to open 1,400 in-store "Experience Shops" within the big-box stores.
Best Buy will begin opening the shops later this month, and Samsung hopes that 900 Experience Shops will be open by early May, with the rest coming by the middle of the summer.
The Experience Shops will showcase the full range of Samsung's mobile lineup – tablets, smartphone handsets and laptops are at the top of the list, along with other items. The products will be set up to give shoppers a hands-on experience with the products, where they can touch, feel, and play around with the gadgets before they make their purchases.
Experience Shops will vary in size based on the individual Best Buy store location, but will be roughly 450 square feet.
"With the Samsung Experience Shops, we are ensuring consumers get the most of that innovation by learning how to leverage their mobile devices across our ecosystem of consumer electronics," said Dale Sohn, Samsung Telecommunications America's President. "Consumers will have one place to not only explore and learn about our full portfolio of mobile products, but also the support of a Samsung expert to help with selecting and servicing them."