By Gilbert Falso :: 6:58 PM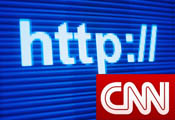 CNN has given its homepage a minor redesign, adding some color, switching the background from white to a light yellow, and renaming some of the section components.
The redesign, which rolled out late on Thursday and early on Friday, applies only to the cable network's homepage at this point, and it is not clear if subsequent article pages or inside section pages will also receive the new look and treatment.
Along the top of the new homepage, users are treated to "CNN Trends" – news stories that are popular at the current moment, replacing what used to be "In the News."
Further down the page, CNN has added some splashes of color to the headlines calling out stories in individual sections.
Two screenshots below show the old site on top, with the new site on the bottom: