By Paul Thomson :: 9:16 PM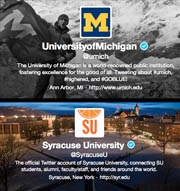 With the NCAA Final-Four matchup of Michigan and Syracuse set to tip off in just a few minutes, let's take a look at the Twitter accounts of both schools to see if we can pick a winner from how they use social media.
Time in the Game
Syracuse University first launched its Twitter account (@SyracuseU) on March 23, 2010, but Michigan beat them by a few months, opening @UMich on November 10, 2009. Point to Michigan.
Number of Tweets
Although Michigan has been playing a bit longer on Twitter than Syracuse, this battle clearly goes to the Orange. Syracuse has racked up about 19,500 Tweets, while Michigan trails with a lackluster 3,681. And, SyracuseU has been actively Tweeting throughout the day today in the run up to tonight's game. Michigan only Tweeted once today, and the Tweet now shows an inaccurate start time for tonight's game. Point to Syracuse.
Who has the Klout?
Points here go to Michigan, but barely. The Mitten State school pulls a 94 on Klout. Syracuse is only just behind, at 93.
Is anybody listening?
Points to Michigan here again – with 37,825 followers, they have 17,700 more than Syracuse, clocking in with 20,125 followers.
So it looks like Michigan has racked up quite a few more points in these categories than Syracuse has. Tune into the game, starting at 9:20 PM tonight to see how the teams do on the court. Will Michigan's dominance on Twitter carry over to the game?