By Paul Thomson :: 1:08 AM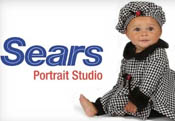 Photo studios inside of Sears and WalMart stores across the nation were shuttered unexpectedly today, as the company behind them, CPI Corp., is preparing to declare bankruptcy.
In a filing with the Securities and Exchange Commission last month, the St. Louis based company revealed that it is was operating at a $60 million loss.
CPI had notified Sears and WalMart stores about the closings on Thursday, but not all locations have been communicating this information to customers, as many showed up for appointments, or to pick up photos from past shoots to find the studios closed.
The company released the following message to previous customers:
"We are attempting to fulfill as many customer orders as possible. If you've had a recent session, your portraits may be available at your Sears, PictureMe or Kiddie Kandids portrait studio.

After many years of providing family portrait photography, we are sad to announce that all of our U.S. portrait studios are now closed. We appreciate your patronage and allowing us to capture your precious memories."
Customers are encouraged to talk to store management to try and retrieve their photographs from the closed stores.
Photo services for Sears stores had been provided by CPI since 1959, and the company was Sears' exclusive portrait vendor since 1986, with locations in nearly 800 stores coast-to-coast.