By Cynthia Herbert :: 4:17 PM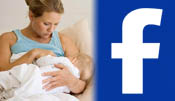 Facebook caused quite the stir in the breastfeeding community online over the past several days, as it blocked a mother for submitting pictures that depicted her breastfeeding her child.
User Kristy Kemp was kicked off of Facebook for 24 hours after posting pictures that the social network claimed were in violation of the company's image policies and guidelines. Kemp also runs a Facebook group for women who breastfeed, Breastfeeding/Mama Talk, which has about 5,300 members.
After Kemp was blocked from Facebook, a number of supporters and friends from her Facebook group posted images of support to the group wall, including pictures of children being breastfed. In addition to blocking Kemp, Facebook also prevented her from managing her Facebook group.
"It's not right," Kemp told her local Fox News affiliate. "I'm trying to do good for mothers and I'm getting kicked off for posting pictures of the most beautiful act a mother can do for her kid."
After the backlash, Facebook issued an apology to Kemp, and restored the images to her account and to her group that it had removed.