By Cynthia Herbert :: 4:06 PM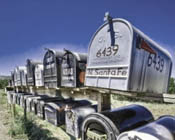 The United States Postal Service (USPS) has temporarily backed away from plans to halt Saturday mail delivery to residential addresses.  In February, the USPS board had announced plans to halt letter delivery on Saturdays, but today announced that it had reversed course on that decision.
Although the USPS had laid out plans for reducing service down to five days, they never really had the power to do so. The regulations stipulating Saturday deliver are laid out in a Congressional mandate from the 1980's, and Congress did not alter that mandate when it approved a funding measure last month to keep the government operating.
When the USPS made the decision to halt Saturday delivery, they had been hoping that Congress would agree and strip the mandate from the books. This was not the case. The USPS board released the following statement:
"Although disappointed with this Congressional action, the Board will follow the law and has directed the Postal Service to delay implementation of its new delivery schedule until legislation is passed that provides the Postal Service with the authority to implement a financially appropriate and responsible delivery schedule."
The USPS had estimated that curtailing delivery on Saturdays would have saved the cash-strapped agency about $2 billion per year. Since another Congressional mandate, passed in 2006, required the USPS to pre-fund healthcare benefits for future retirees, the agency has been racking up debt by borrowing billions of dollars to make up for its budget shortfalls.