By Paul Thomson :: 4:19 PM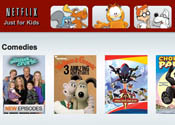 Netflix has added new content from Hasbro to its on-demand video streaming service, the company announced late this week.
In a continuation of the partnership that Netflix inked with Hasbro in April, new titles coming to the service include shows such as My Little Pony Friendship is Magic, Transformers Prime, Transformers Rescue Bots, Littlest Pet Shop, and Kaijudo: Rise of the Duel Masters.
Episodes of these shows will appear on Netflix's instant service approximately one month after they air on cable channel The Hub. The Hub is a channel that is jointly owned by Hasbro and the Discovery Channel's Discovery Network.
"The success of Hasbro Studios content on Netflix has been remarkable and we are proud to add more shows and extend our relationship throughout North America," explained Ted Sarandos, Netflix's Chief Content Officer. "In a very competitive field, Hasbro Studios has risen to become a major content player with shows that kids watch and families trust."
In numbers recently released by Netflix, the company says that over 2 billion hours of child-friendly programming was streamed across its service last year.