By Gilbert Falso :: 1:14 PM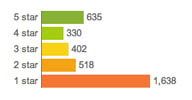 Facebook's Home application for Android phones was designed to make the social network the focal point of your mobile experience. The Home application replaces the launch screen and integrates Facebook messaging and status updates into your Android OS. Facebook announced the app earlier this month, and launched it in the Google Play store on Friday.
Now, two days post launch, the reviews and ratings have come in, and they don't look good. With just over 3,500 ratings, the app only scores an average of 2.4 stars. In fact, 1,638 reviewers (47%) only rated it as a one star. See above for chart with distribution of stars, as of Noon today.
"Not an intuitive app. Made my phone so frustratingly complicated to use that I uninstalled after just four or five hours. Unless major changes are made including an easy way to get to my home screen I will not reinstall," commented Google Play user Victoria Wiley.
Wiley's review is close to the reception that the application has been receiving across the Internet this weekend. Many die-hard Facebook users installed the app on Friday and Saturday, and have been quickly switching away from it as they find it difficult to use, or that the focus on Facebook is too much for them to bear.
"I tried it ,and to be honest, it just was too much. I would like it better if it was just the lock screen, but it gets annoying," said Nathan Watrous on the Google Play review pages.
Another common complaint is that with such a strong Facebook presence with the application, other apps, functions, and widgets on the phone are hidden and difficult to find. "Cool way to use Facebook, but with no support for my other widgets, it limits my phone," explained reviewer Lee Milstein.
Many who commented on the app are using a variety of different Android phones. Facebook worked with HTC to develop the application, and the HTC First handset apparently offers additional functionality and a more streamlined experience with the application than some other Android devices.