By Gilbert Falso :: 8:17 PM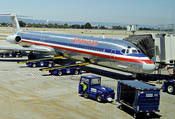 Airline carrier American Airlines is slowly getting flights off the ground across the globe this evening after aircraft were grounded most of the day due to an issue with the company's computer system.
Over 400 flights were canceled, and hundreds of others suffered delays beginning around noon today. The company blamed the problem on its computer reservation system, Sabre.
American's Sabre system handles almost all facets of a traveler's flight booking, such as issuing boarding passes, managing online check-ins, printing tickets at the airport, and tracking bags through to their destinations. In addition to the passenger side of the system suffering issues, sources also say that pilots and flight crews were affected by the outage when they could not access documents and schedules relating to flight plans and other aircraft tasks.
A spokesperson for American said that their computers were suffering "intermittent problems," and those problems led to the need to ground the entire fleet. The airline's website said that all fees would be waived for passengers who needed to change their reservations on Tuesday, and that stranded passengers would be allowed to book on another airline without incurring any additional charges. Full refunds were promised for travelers who needed to cancel their flights.