Shooting Reported at MIT
By Paul Thomson :: 11:29 PM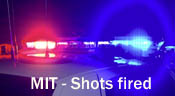 A shooting has been reported on the campus of the Massachusetts Institute of Technology (MIT) tonight.
The institution's website carries the following message:
"There are gunshots reported in the vicinity of Building 32 (Stata Center). Area is cordoned off. Stay away from area."
In addition, MIT's Twitter account describes the event as an "active shooter incident."
Responding agencies continue to investigate active shooter incident atbuilding 32 (Stata). Please stay indoors and away from the area.

— MIT (@MITnews) April 19, 2013
MIT's website says the shooting occurred at 10:48 PM, and the incident is still under investigation. While the Institute does not report any injuries, some news sources are claiming that a police officer has been wounded.
Update: 11:34 PM -Â MIT's student-run newspaper claims that the wounded person was an MIT police officer, and the officer has been taken to Massachusetts General Hospital. The paper also released a photo, below, of the crime scene. Warning, the photo is graphic.
Photo from the #MIT shooting #CambMA (warning: potentially graphic) twitter.com/thetech/status…

— The Tech (@thetech) April 19, 2013
Another photo of the scene, taken by an MIT Ph.D. student:
another photo of #MIT #STATA #SHOOTING by YULEI (taken from Koch) twitter.com/Yang_Chu/statu…

— Yang (@Yang_Chu) April 19, 2013