By Gilbert Falso :: 10:56 PM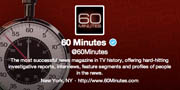 The Twitter account of the CBS news show 60 Minutes has been hacked for a second time today.
We reported earlier on the breach of three accounts associated with CBS news organizations. The latest hacking attempt occurred within the last 45 minutes, and is still ongoing.
The hackers are posting anti-Obama messaging to the account, and messages dealing with the U.S. involvement with the conflict in Syria.
After the first hacking attempt, earlier today, Twitter and CBS worked to regain control of the account. CBS was able to access the account again for several hours before losing access again.
Twitter has temporarily suspended the account while it investigates the issue.
CBS social media producer Matthew Polevoy commented on Twitter, "obviously, those messages posted did NOT come from 60 Minutes staff. This is [a] serious matter and we're treating it as such."
Some of the Tweets that were posted to the account are shown below.