By Cynthia Herbert :: 9:27 PM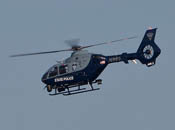 Today, the Massachusetts State Police Department released photos shot with an infrared camera that were taken during the apprehension of Boston Marathon terror suspect #2, Dzhokar Tsarnaev.
Dzhokar was the younger of the two-brother pair that terrorized the finish line of the Boston Marathon on Monday with two home-made explosive devices that resulted in three deaths and hundreds of injuries.
On Thursday night and Friday morning, the brothers continued their crime spree across the Boston area, and on Friday night, Dzhokar fled from police and sought refuge in a boat stored in the yard of a Watertown family.
Once police had located Dzhokar in the boat, thanks to a tip by a resident who had noticed the boat's winter cover was askew, Massachusetts State Police officers scanned the boat from the air with an infrared camera on board their helicopter.
He was captured after a brief firefight with law enforcement officials.
Pictures from the infrared camera are below.