By Paul Thomson :: 11:12 AM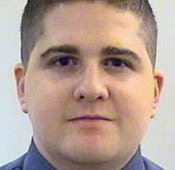 The photos below show the police procession for MIT Police Officer Sean Collier who was killed while on duty on the MIT campus on Thursday night.
Collier was slain by the two suspects wanted for the twin bombings carried out on Monday at the finish line of the Boston Marathon. He had worked for MIT since 2012, and was well liked and respected by his fellow officers and students at the Institute.
MIT released the following statement regarding Collier's death: "While the circumstances around the officer's death remain the subject of an active investigation, what is certain is that the officer gave his life to defend the peace of our campus. His sacrifice will never be forgotten by the Institute. We are thinking now of his family, and our hearts are heavy."
The pictures show the sheer number of Boston law enforcement officials who turned out to escort Collier's body from the hospital to the funeral home. Video is below photographs.