By Leslie Spellman :: 9:04 AM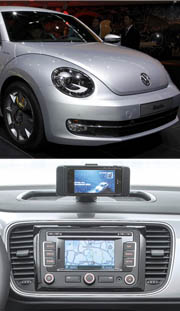 Apple and Volkswagen will jointly introduce a special model of Volkswagen's Beetle this week at the Auto China 2013 show in Shanghai.
The customized bug will will be a special-edition model outfitted with a custom iPhone dock, new color schemes, unique wheels, and a downloadable Volkswagen application for Apple's iOS.
Apple and the car maker have situated the dock front and center on the Beetle's dashboard. The driver's iPhone can be used to navigate, place calls hands-free, listen and manage music, and will integrate with the car's electronic systems via the specialized application.
Functionality offered by the app includes using the car's interface to control iPhone functions. This includes using Spotify for streaming music, the ability to read out Facebook updates and the content of incoming texts, and a feature called "Postcard" that allows drivers to send their current location, including  a map graphic, to their friends.
In addition to entertainment and social networking capabilities, the app also supports driving functions, such as a feature that lets drivers review and compare different trip routes, with the app storing real-time information as each route is driven, to discover which is fastest.
Although the new iBeetle is being introduced in China, it is expected that the vehicle will be available in U.S. markets in 2014.