By Gilbert Falso :: 7:22 AM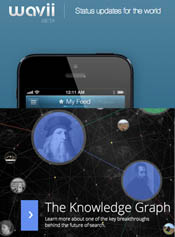 Sources close to Google this morning have confirmed its acquisition of natural language processing startup Wavii, after a bidding war with Apple.
The pricetag for the Seattle-based company was somewhere above $30 million, but exact figures haven't been given. Apple had also been interested in the 25-member Wavii team as it looked to bolster the technology behind its iPhone virtual assistant, Siri.
Although Google hasn't said exactly where it hopes to apply Wavii's technology within the company, there are several areas where the language processing knowledge could be a good fit. Some of those include Google Now, Google Knowledge, Google News, and even Google Glass, according to some sources.
It is believed that most of the Wavii team, including its founder, Adrian Aoun, will initially join the Google Knowledge team after the acquisition clears.
Google's acquisition of Wavii comes on the heels of Yahoo's purchase of Summly and LinkedIn's attempt to buy Pulse – the big names are all in search of the mobile news reading and news processing space.