By Gilbert Falso :: 7:05 PM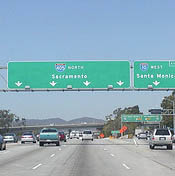 Elon Musk, the wealthy entrepreneur behind SpaceX and Tesla Motors is sick and tired of the traffic on the 405 freeway in metro Los Angeles.
He's so fed up with the bumper-to-bumper gridlock, that he's offered up $50,000 to quicken the pace of construction currently in progress on the freeway to widen it and add lanes. Musk has said that he's open to donating more of his personal funds to the project, to add workers to the 405 freeway construction, if it will hurry things along.
Musk told the Los Angeles Times that he would consider giving money to the city "as a contribution to the city and my own happiness. If it can actually make a difference, I would gladly contribute funds and ideas."
"The 405 varies from bad to horrendous," he told the Times. "It just seems people in Los Angeles are being tortured by this. I don't know why they aren't marching in the streets."
Drivers in Los Angeles have been plagued by construction on the section of the freeway that connects West Los Angeles with the San Fernando Valley. The project is likely to take at least a year longer than initially planned, and could cost $100 million more than the original budget.
Susanna Watkins, a resident of Santa Monica who frequently navigates the 405 on a commute to Northridge, in the San Fernando Valley, was glad to hear of Musk's offer to help. "If he has the ability to make a difference and make this nightmare go by faster, I'm all for it, and I'd be grateful to him," she said. "Maybe they could name it the Musk Freeway?" she mused.